Catholic Activities at LMU
Sponsoring Religious Orders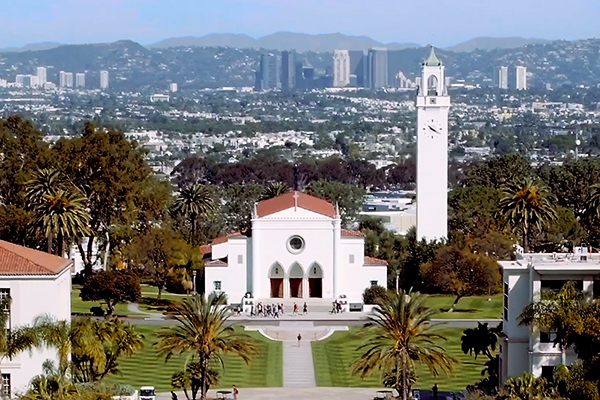 The Marymount Institute and the CSJ Center for Reconcililation and Justice both offer resources and programs to students, faculty and staff rooted in their respective communities' heritages and charisms.


Members of the Society of Jesus, the Sisters of St. Joseph of Orange, and the Religious of the Sacred Heart of Mary serve as Campus and Resident Ministers, faculty and staff members, and as Trustees.
Daily Mass is offered each weekday in St. Ignatius Chapel in the Jesuit Community.

Sunday Mass is offered at three times, at 10 a.m. and 8 p.m. in Sacred Heart Chapel and at 10 p.m. in Leavey Chapel.
Students serve and lead in a variety of liturgical ministries. All university liturgies, from daily masses to the Commencement Mass, are student-coordinated, under the direction of the Liturgy & Music staff of Campus Ministry.
All major Catholic liturgies are celebrated throughout the academic year on campus. Liturgies reflect the diversity of the global Catholic community, and annual celebrations include the misa de herencia during Latinx Heritage Month, Pistahan (feast of Filipino saints), the Feast of our Lady of Guadalupe, and vespers in the African American tradition.
Following centuries-long Jesuit tradition, each academic year's beginning is marked by the Mass of the Holy Spirit, gathering to pray for guidance and wisdom for the whole campus community during the coming year.
Spiritual Development and Accompaniment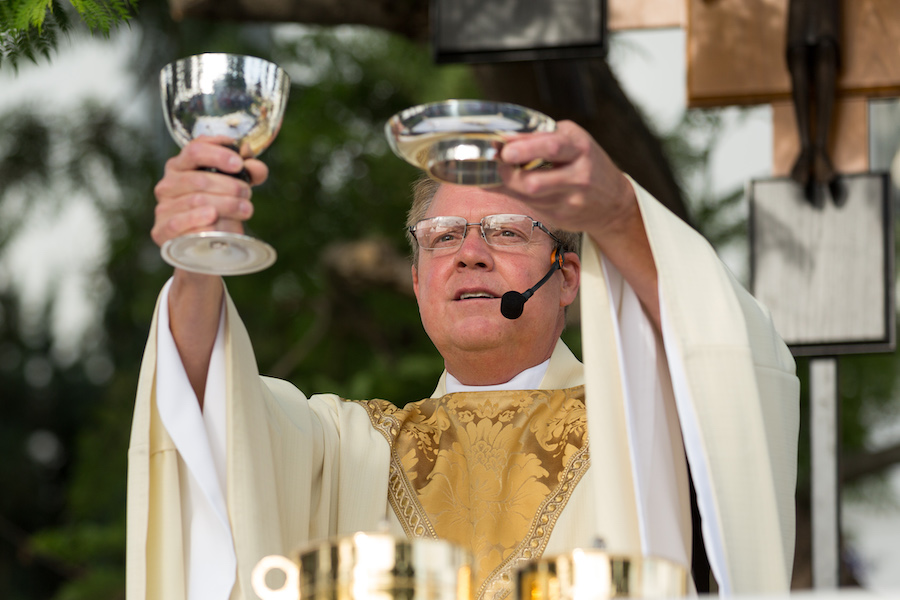 The Silent Retreat every December offers students spiritual direction with experienced staff members, culminating in five days of silence, discernment, and reflection. It is inspired by Ignatian contemplation and the Spiritual Exercises.
Every fall more than two hundred first year students attend First Year Retreat in Lake Arrowhead.


The Center for Ignatian Spirituality offers one-on-one spiritual direction for staff and faculty, prayerful experiences throughout the year, and an annual off-campus faculty and staff retreat based in the Spiritual Exercises of St. Ignatius.
Every on-campus residence hall has a Resident Minister: a priest, sister, or lay minister who lives in student communities and serves as a resource to help residents explore their faith and provide guidance on their spiritual journey.
Solidarity and Justice
Campus Ministry hosts social justice programs rooted in Catholic social teaching, including De Colores, weekend trips to the San Diego-Tijuana border that focus on building homes, and Feed the Hungry, which provides weekly meals to those facing financial hardships.
The Center for Service and Action offers Alternative Breaks trips to domestic and international locations and five out of eight are partnered with Catholic organizations.


All 10 student service organizations on campus have a leadership position on their executive board for spirituality and each organization has a chaplain and advisor position as part of their staff/faculty support. All ten organizations work with at least one Catholic nonprofit community partner. In total, fourteen of the community partners the organizations served most closely are Catholic organizations.
Catholic Intellectual Tradition and Ignatian Identity
The Academy of Catholic Thought and Imagination (ACTI) is a community of scholars who work in dialogue with the Catholic intellectual tradition by developing, critically examining, communicating, or otherwise engaging the rich resources of Catholic thought and imagination.


ACTI awards two Faculty Fellowships annually to support research and creative projects in any discipline engaging the Catholic intellectual tradition.


The Center for Mission and Identity sponsors Companions in Mission, a year-long annual program that accompanies faculty and staff in becoming (1) well-grounded in the Ignatian heritage shared by the Jesuits, the Religious of the Sacred Heart of Mary, and the Sisters of St. Joseph of Orange and (2) capable of understanding and adapting its implementation in the everyday life of the University in their own specific roles.‌
Each November, Ignatian Heritage Month is an annual, campus-wide celebration that highlights the living legacy of St. Ignatius Loyola and the Ignatian identity we share at LMU.
Student Affairs' Student EXP framework for co-curricular programs includes "Practice Ignatian Values" as a primary pillar, supporting students in making decisions congruent with their personal beliefs, values, and faith through continuous reflection and discernment.


Continuing and transfer students may apply to live in the Arrupe Living Learning Community. This intentional educational community highlights the Ignatian roots of the LMU mission statement and seeks to help students understand and
Service to the Local Church
Through the Center for Catholic Education (CTE), LMU is the largest preparer of Catholic school teachers and principals in the nation, serving as an anchor for Catholic schools in the Archdiocese of Los Angeles, the Diocese of Orange, the Diocese of San Bernardino, and nationally so that the rich tradition of Catholic education continues to shape the children of today who will be leaders of tomorrow. Programs of the CTE include PLACE Corps, CAST (Catholic Archdiocesan School Teachers), the Catholic School Leadership Academy, and Education Law Services.
PLACE Corps is a nationally recognized Catholic teacher service corps, housed in the Center for Catholic Education within the School of Education. PLACE Corps members earn a master's degree and teaching credential while serving as full-time teachers in primarily under-resourced Catholic schools in the Archdiocese of Los Angeles, Diocese of Orange, and Diocese of San Bernardino


LMU partnered with the L.A. Archdiocese to offer more than 500 Catholic school teachers significantly impacted by COVID-19 the chance to be vaccinated on the LMU campus.
LMU honored Archbishop Jose Gomez with an honorary doctorate in 2018 (video)


The Theological Studies Department was the lead, along with the Center for Religion and Spirituality, in receiving a $1 million grant from the Lilly Foundation help develop Catholic leaders in SoCal. That work will be with the L.A. Archdiocese, as well as the Dioceses of Orange and San Bernardino. (Article will be published LMUTW Dec. 14)
LMU hosts the annual Hispanic Ministry and Theology Lecture, positioning LMU in a crucial Church-ministry conversation aimed at improving a situation in which the large Latino/a, Latinx Catholic population still is not proportionally served by Latino clergy and lay leaders.
Dozens of LMU students and alumni attend, speak at, and serve as volunteer ministers and coordinators at the Los Angeles Religious Education Congress, a four-day event hosted by the Archdiocese of Los Angeles in Anaheim. It is the largest gathering of Catholics in the U.S.


The graduate theology program includes a sequence to train deacons, and about one-third of all theology M.A. students work in some capacity in one of the Los Angeles
area dioceses.
LMU's Graduate Division offers Catholic Teacher / Ministry Scholarships supporting students who teach full-time in Catholic Elementary or Secondary Education or work full-time in Catholic ministry.