Academy of Catholic Thought and Imagination
The Academy of Catholic Thought and Imagination at Loyola Marymount University is a community of scholars who work in dialogue with the Catholic intellectual tradition by developing, critically examining, communicating, or otherwise engaging the rich resources of Catholic thought and imagination, especially as it is informed by Jesuit and Ignatian vision. The Academy serves as a hub for scholarship, interdisciplinary research, innovative pedagogy, and creative outreach across LMU's campus in the southwest United States and beyond.
ACTI Happenings in the LMU Community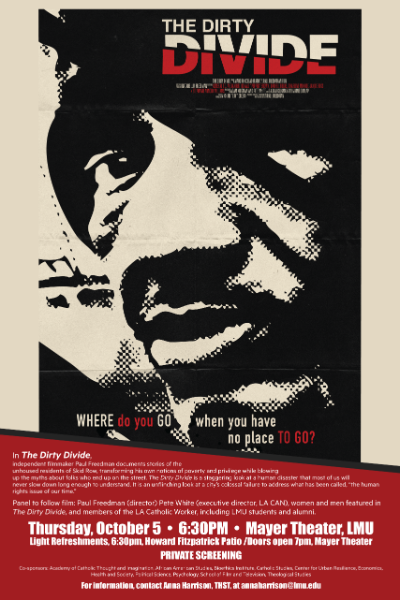 Documentary filmmaker Paul Freedman has produced and directed over a dozen films on global human rights abuses in Darfur, Eastern Congo, and Rwanda, among other places. In The Dirty Divide, he turns his camera on what former Los Angeles Mayor Eric Garcetti (2013-22) called "the greatest moral and humanitarian crisis of our time": houselessness. L.A.'s Main St., the "dirty divide," separates the increasingly gentrified section of downtown—land of lattes and lofts—from the fifty-two square blocks that has become home to between approximately thirteen to fifteen thousand unhoused Angelinos. La La Land is in crisis.
Join us for a screening of The Dirty Divide followed by a panel discussion with director Paul Freedman, advocacy group LA CAN's executive director, Pete White, woman and men featured in the film, and LA Catholic Workers, including an LMU student and alumnus.

Light refreshments, 6:30 pm, Howard Fitzpatrick Patio / Doors open 7:00 pm, Mayer Theater
Contact: Anna Harrison @Harrison, Anna