Past Events
22nd Annual Animation Show of Shows
After a two-year Covid hiatus, the ANIMATION SHOW OF SHOWS returns to theaters and campuses across North America this fall. This (90 minute) 22nd edition comprises 10 films -- nine recent, along with one restored classic -- which deal with both the anxieties and hopes of a world faced with a seemingly endless series of existential crises. All are inventive, their tone ranges from the whimsical to the profound; their techniques, from stop-motion to hand-drawn to computer-aided.
"Animation is a natural medium for dealing with abstract ideas and deeply felt concerns, and the
ANIMATION SHOW OF SHOWS
has always strived to scour the world for the most affecting and engaging films," says founder and curator
Ron
Diamond
. "While the recent films were conceived and some finished, before the Covid lockdowns, all but the most abstract display a concern with the ways in which we are all interconnected...or sadly alienated from our sense of human connection."
This year's films are:
Beyond Noh -- Patrick Smith/Kaori Ishida (U.S./Japan) - 3m55s, 1.78, color, Stop Motion Animation, No dialogue, US & Japan, 2020.
Empty Places -- Geoffroy de Crecy (France) - 8m49s, 1.78, color, 3D computer animation, No dialogue, France, 2020.
Beseder (Good and Better) -- Gil Alkabetz (Germany) - 4m23s, Aspect Ratio,1.77, color, 2D hand drawn animation, Hebrew (subtitled English)
Zoizoglyphe -- Jeanne Apergis (France) - 7m44s, minimal color, 2D hand drawn animation, France, 2021.
Rain (Deszcz) -- Piotr Milczarek (Poland) - 5m13s, 1.78, color, 2D Hand Drawn Animation, no dialogue, Poland, 2020
Average Happiness -- Maja Gehrig (Switzerland) - 7m03s, 1.78, color, 2D Hand Drawn Animation, No dialogue, Switzerland, 2019
Aurora -- Jo Meuris (U.S.) - 5m15s,1.77, color, 2D hand drawn animation, US, 2020.
Yes-People -- Gísli Darri Halldórsson (Iceland) - 8m35s,1.77, color, 3D computer graphics animation, US, 2019.
Ties -- Dina Velikovskaya (Germany/Russia) - 7m36s, 1.85, color, Stop Motion replacement animation, Germany / Russia 2019.
The Man Who Planted Trees
-- Frederic Back (Canada) - 30m8s, 1.33, color, 2D Hand drawn, Canada, 1987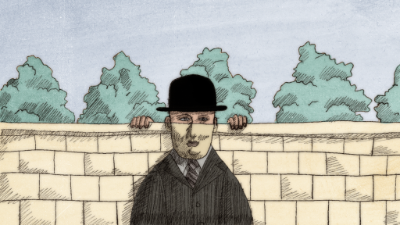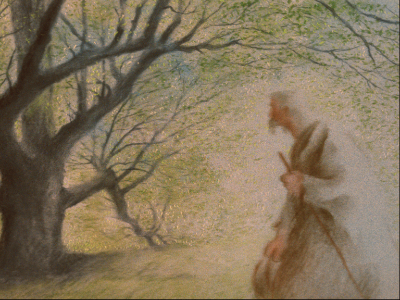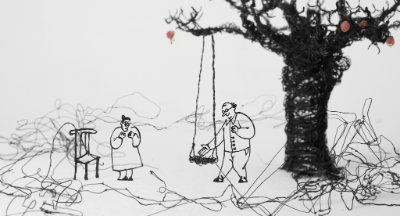 St. John's Bible ICON ANIMORUM Exhibit
The Academy of Catholic Thought and Imagination held the Saint John's Bible ICON ANIMORUM exhibit from March 28-April 12, 2022 in the William H. Hannon Library.
The Saint John's Bible Immersive Experience (ICON ANIMORUM) is a continuous multidisciplinary exhibition that looks to promote awareness in the LMU Community and related constituencies, in the LA Metropolitan Area, of the extraordinary value of the Heritage Edition of the Saint John's Bible, and which is part of the Special Collections Archive at the LMU Hannon Library. ICON ANIMORUM is also an opportunity to incorporate immersive technologies as powerful Catechesis tools, which follows a long tradition of spiritual instruction through images, and in this case of avant-garde immersive techniques, such as hologram projection, augmented reality, digital projection.
Soft White Underbelly at LMU
Mark Laita, a filmmaker and photographer in Los Angeles, will visit the LMU campus on April 19th to share a curated collection of Soft White Underbelly. José García Moreno will lead a panel discussion during the screening. The goal of this event is not to shock, entertain, or haunt. This evening may not bring immediate hope, but hearing stories of the voiceless and of human beings at the margins is not only an ethical call but also a cinematic necessity. Laita's work isn't easy, but his reputation is growing as a documentary filmmaker. He converses with people who seem unapproachable and allows audiences to find dignity when trauma overwhelms the least fortunate. Please join us for a community event surrounded by unforgettable documentary filmmaking. If you are a guest external to LMU, please click the RSVP button below. LMU Students, Faculty, and Staff may RSVP through LEO. Link to LEO Event Page

We look forward to seeing you in Mayer Theater on April 19, 2023. The screening begins at 7:30 PM and ends at 10:00 PM. The LMU School of Film and Television and The Academy of Catholic Thought and Imagination sponsor this event.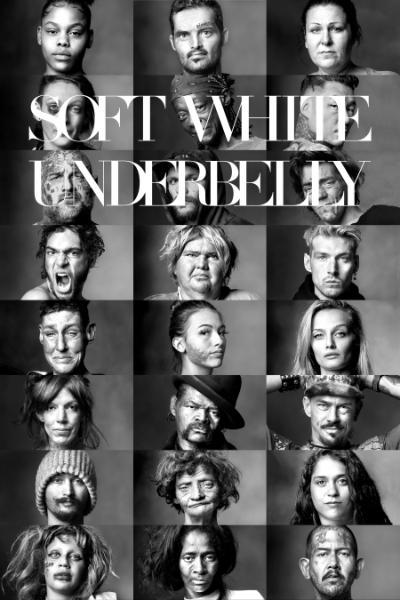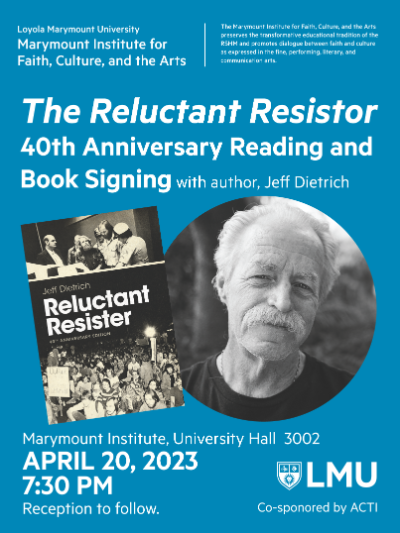 ACTI Fellows Present and Future