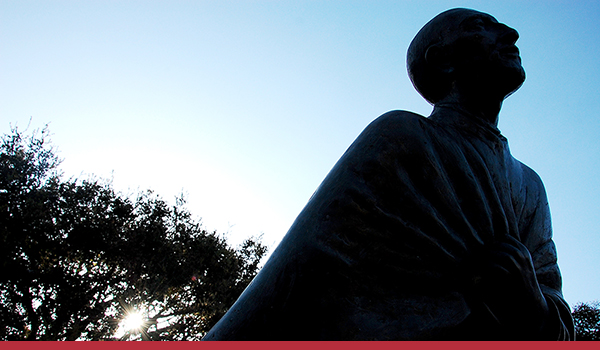 VIRTUOUS EXEMPLARS
Moral understanding, emulation, and resentment
A public lecture by Linda Zagzebski, George Lynn Cross Research Professor and Kingfisher College Chair of Philosophy of Religion and Ethics, University of Oklahoma
Tuesday, September 27
4:30 p.m.
McIntosh Center, University Hall 3999
Loyola Marymount University
1 LMU Drive
Los Angeles, CA 90045
This talk expands the method of Dr. Zagzebski's Gifford Lectures, "Exemplarist Moral Theory," which define basic moral terms by direct reference to exemplars of goodness whom we identify by reflective admiration. We see through narratives and empirical studies of exemplars that they exhibit moral and intellectual virtues, and some of them have spiritual virtues which have received only a small amount of attention in the secular literature. Since admiration is motivating, exemplars not only help us to understand what virtues are, but they also inspire us to emulate them, so they serve both a theoretical and a practical purpose. A problem with emulating exemplars is that admiration can be corrupted by resentment. Dr. Zagzebski argues that this affects not only our ability to grow morally and spiritually, but can lead to a corruption of our virtue vocabulary.
About the speaker:
Linda Zagzebski is the George Lynn Cross Research Professor and Kingfisher College Chair of Philosophy of Religion and Ethics at the University of Oklahoma. She is author several books in epistemology, ethics, and the philosophy of religion. She is past president of the Central Division of the American Philosophical Association, the American Catholic Philosophical Association, and the Society of Christian Philosophers. She has delivered the Gifford Lectures at the University of Saint Andrews and the Gifford Lectures at Oxford University.


About the series:
This event is the first of a series of lectures and other events on "Virtue Epistemology and Ignatian Spirituality and Pedagogy" sponsored by the Robert H. Taylor S.J. Chair in Philosophy, with additional support from the Academy of Catholic Thought and Imagination. "Virtue epistemology" is an approach to the philosophical study of knowledge that examines the role of personal agency, volition, motivation, and emotion in the life of the mind. Ignatian spirituality and pedagogy are similarly concerned with the role of personal qualities and capacities in "epistemic" activities like self-examination, prayer, teaching, and learning. The present project explores the intersection between virtue epistemology and the spiritual and pedagogical practices inspired by St. Ignatius of Loyola. For more information about project events, contact Jason Baehr, Professor of Philosophy, at jbaehr@lmu.edu.
Photo Gallery
Video