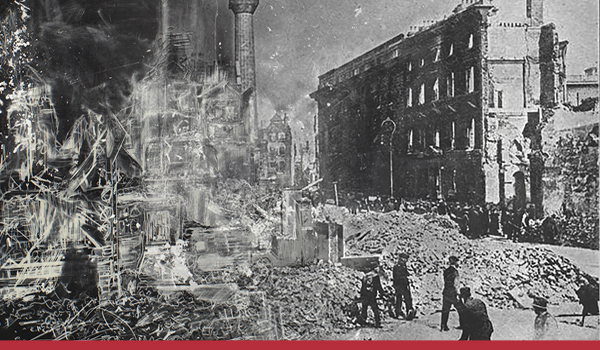 TWINSOME MINDS
Recovering 1916 in images and stories
A live multimedia commemoration of the Irish Easter Rising by Richard Kearney and Sheila Gallagher

Friday, September 23, 2016
7:00 p.m.
Ahmanson Auditorium, University Hall 1000
Loyola Marymount University
1 LMU Drive
Los Angeles, CA 90045
"Between myth and history, anecdote and legend, each scene brilliantly dramatizes and narrates stories of friends, lovers and family members who found themselves caught up on opposite sides in 1916." -Télérama, Sortir Paris
Through an interplay of storytelling, animations, music and poetry, Richard Kearney and Sheila Gallagher's "Twinsome Minds" mines what is often lost behind official historical accounts and acts of commemoration, and proposes a transformative work of interpreting Dublin's Easter Rising for a new generation. Opened at Dublin's Abbey Theatre, "Twinsome Minds" (a phrase from Finnegans Wake) re-imagines a series of micro-narratives surrounding 1916 in Dublin and the WWI battlefields of Belgium. The stories and images of eclipsed history concentrate on 'twinned' pairs – family members, neighbors, school friends, lovers – who ended up on opposite sides during this time of great upheaval in British-Irish relations. The various scenes explore crossings of memory and imagination, anecdote and legend, history and myth – as well as loyalty and love. They are framed and retold by writer & philosopher Richard Kearney with screen projections by artist Sheila Gallagher, accompanied by an original music score by Dana Lyn. For more information about the program, visit the Twinsome Minds website.
This presentation is made possible by a generous grant from Culture Ireland.
Reception to follow. Free and open to the public.
Photo Gallery