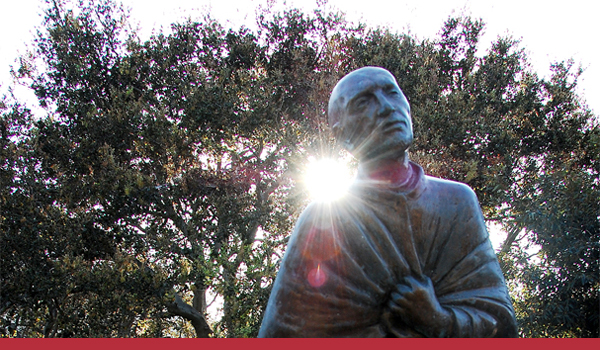 The Spiritual Exercises of St. Ignatius of Loyola and the Virtues of Introspection
A public lecture by Nancy Snow, Professor and Director, The Institute for the Study of Human Flourishing, University of Oklahoma
Tuesday, March 21
4:30 p.m.
Philosophy Village, University Hall 3600
Loyola Marymount University
1 LMU Drive
Los Angeles, CA 90045
In this presentation, Dr. Snow will suggest that reading the Spiritual Exercises in a certain way helps the reader to develop what she calls 'virtues of introspection.' Some of these virtues are capacities: for example, concentration, attention, and memory. Another suite of virtues that are developed by reading the Exercises are traits like honesty, objectivity, careful mental review of one's own behavior, the love of learning, and curiosity or inquisitiveness about the true nature of the self, the universe, and God. Open-mindedness, intellectual humility, and perseverance are also relevant here, as the journey of introspection to which the Exercises invites us could reveal unpleasant facts about ourselves. In addition to intellectual virtues, moral virtues and theological virtues such as faith, hope, and love also come into play.
About the speaker:
Dr. Snow is Professor of Philosophy and Director of the Institute for the Study of Human Flourishing at the University of Oklahoma. She is the author of Virtue as Social Intelligence: An Empirically Grounded Theory (Routledge, 2009) and over thirty papers on virtue and ethics more broadly. She has also edited or co-edited five volumes: In the Company of Others: Perspectives on Community, Family, and Culture (Rowman & Littlefield 1996) Legal Philosophy: Multiple Perspectives(Mayfield, 1999), Stem Cell Research: New Frontiers in Science and Ethics (Notre Dame, 2004), Cultivating Virtue: Perspectives from Philosophy, Theology, and Psychology (Oxford, 2014), The Philosophy and Psychology of Character and Happiness (Rutledge, 2014). She is currently revising a monograph on hope, writing one on virtue ethics and virtue epistemology, and co-authoring a book on virtue measurement. She is the Associate Editor for Ethics and Philosophy of The Journal of Moral Education.


About the series:
This event is the second of a series of lectures and other events on "Virtue Epistemology and Ignatian Spirituality and Pedagogy" sponsored by the Robert H. Taylor S.J. Chair in Philosophy, with additional support from the Academy of Catholic Thought and Imagination. "Virtue epistemology" is an approach to the philosophical study of knowledge that examines the role of personal agency, volition, motivation, and emotion in the life of the mind. Ignatian spirituality and pedagogy are similarly concerned with the role of personal qualities and capacities in "epistemic" activities like self-examination, prayer, teaching, and learning. The present project explores the intersection between virtue epistemology and the spiritual and pedagogical practices inspired by St. Ignatius of Loyola. For more information about project events, contact Jason Baehr, Professor of Philosophy, at jbaehr@lmu.edu.
Photo Gallery
Video