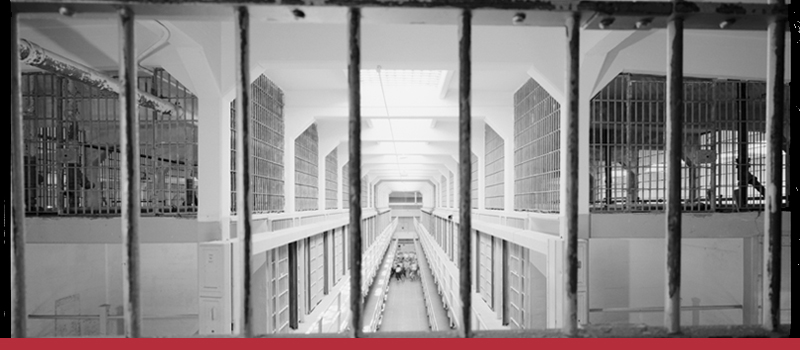 INTERROGATING INCARCERATION
Mercy and the Prison-Industrial Complex
Wednesday, February 15, 2017
11:30 a.m. - 12:50 p.m.
Ahmanson Auditorium, University Hall 1000
Loyola Marymount University
1 LMU Drive
Los Angeles, CA 90045
Pope Francis' call to mercy extends not only to those suffering because of wars and famines, but also to those punished for real or perceived transgressions. The most prominent form of punishment, particularly here in the United States, is imprisonment. Over the last half-century, incarceration has expanded to include a large percentage of the population, with African Americans, Latinos, and other minorities disproportionately affected. To speak of mercy in this situation requires not only that we advocate on behalf of the incarcerated but that we engage in careful analysis about the fundamental presuppositions and practices that justify imprisonment, and that we formulate creative responses to the current crisis. Join us as our panelists interrogate incarceration practices and propose ways forward.
Featured Panelists:
Andrew Dilts
Andrew Dilts is an Assistant Professor of Political Science at Loyola Marymount University and works in the traditions of critical theory and the history of political thought, focusing primarily on the relationships between race, sexuality, political membership, sovereignty, and punishment in the United States. Born and raised in the midwest, Prof. Dilts studied economics at Indiana University and the London School of Economics before earning their doctorate in political science at the University of Chicago. Prior to joining the faculty at Loyola Marymount in 2011, Dilts was a Harper-Schmidt Fellow in the Society of Fellows in the Liberal Arts at the University of Chicago, teaching exclusively in the College's "Common Core" curriculum as Collegiate Assistant Professor of Social Sciences. Dilts is the author of Punishment and Inclusion: Race, Membership, and the Limits of American Liberalism (Fordham University Press, 2014) which gives a theoretical and historical account of felon/criminal disenfranchisement as it has been practiced in the United States and co-editor (with Perry Zurn of Hampshire College) of Active Intolerance: Foucault, the Prisons Information Group, and the Future of Abolition (Palgrave 2015). Dilts is also co-editor (with Natalie Cisneros of Seattle University) of a special project for Radical Philosophy Review called "Political Theory and Philosophy in a Time of Mass Incarceration," and has published articles in Political Theory, Foucault Studies, New Political Science, PhiloSOPHIA, and The Carceral Notebooks.
Franky Carrillo
In 1992, at the age of 16, Francisco "Franky" Carrillo, Jr. was convicted of murder and six counts of attempted murder for a 1991 shooting. After battling his conviction with the help of legal teams including the Northern California Innocence Project at Santa Clara University and the law firm Morrison & Foerster, his sentence was overturned in 2011 after multiple witnesses recanted their testimony. Since being released from imprisonment, Carrillo completed his bachelor's degree at Loyola Marymount University and now lives in Los Angeles with his family.
Ella Turenne
Ella Turenne is an artist, activist and educator. Currently, she is Assistant Dean for Community Engagement at Occidental College. Ella's work has been published in various anthologies, including Letters from Young Activists: Today's Rebels Speak Out, Check the Rhyme: An Anthology of Female Poets and Emcees (nominated for a 2007 NAACP Image Award), Woman's Work: The Short Stories, and most recently in "Turning Teaching Inside Out." She is the editor of a volume of visual art and poetry commemorating the Haitian revolution entitled "revolution|revolisyon|révolution 1804-2004: An Artistic Commemoration of the Haitian Revolution." Ella is also a filmmaker whose work has been an official selection of various national film festivals including the Hollywood Black Film Festival and the Montréal International Haitian Film Festival, where her short film "woodshed" was nominated for Best Short Film. In response to the Jan. 12, 2010 earthquake in Haiti, Ella co-edited a volume of poetry on Haiti called "For the Crowns of Your Heads"; the funds raised were used to aid a library that was destroyed in Port-au-Prince. She is on the Executive Committee of the Inside-Out Prison Exchange Program as well as on the Advisory Boards of Arts for LA and the Arts for Incarcerated Youth Network. She was also a member of the Blackout Arts Collective, where she participated in Lyrics on Lockdown, a national tour where she performed and facilitated workshops educating communities about the prison-industrial complex. For more, visit www.ellaturenne.com.
Free and open to the public.
Photo Gallery
Video