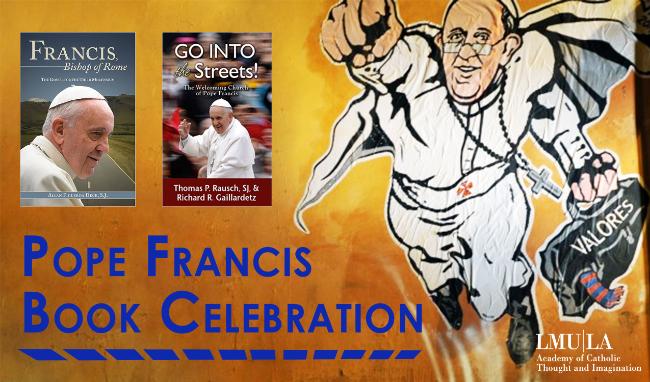 Pope Francis Book Luncheon

Panelist:
Allan Figueroa Deck, S.J.
Thomas P. Rausch, S.J.
Dr. Matthew Petrusek

12:00 - 1:30 p.m.
Theological Village
‌

More about the Francis, Bishop of Rome


To say that Jorge Mario Bergoglio is the first Latin American and Jesuit to occupy the chair of Peter is to assert the most important facts about him. Francis, Bishop of Rome focuses on the most revelatory features of his life and times, highlighting key facets of Pope Francis rich background using primary Spanish-language sources that include interviews with key players from his formative years in religious life and pastoral ministry. The picture emerging is one of a complex human being, a work in progress, and an intrepid reformer focused on moving the Church into the third millennium in ways that few would have ever imagined. While making history, moreover, he seems to be actually having fun doing it.

More about the Go Into the Streets


Pope Francis has called for a church of and for the poor and has sought to reclaim the collegial vision of the Second Vatican Council. This book calls on ten distinguished theologians to explore the ecclesial vision of the first pope from the global South. Francis sees the church as the holy, people of God. This is the church that enjoys in the Spirit what he calls infallibility in believing (infallibilitas in credendo): We should not even think that thinking with the church means only thinking with the hierarchy of the church. Starting with an examination of how Francis papacy both advances the themes of his predecessors and represents genuinely new developments, this volume considers his concern for a fresh reception of Vatican II, his efforts to move the church toward the periphery and accompany those who live on the margins of church and society. The pope seeks to shape a dialogical church that listens. Key chapters also explore the tension between the church universal and local churches, Francis understanding of the importance of popular religion, and his particular vision of social justice.