Manresa Moment: Monday of Holy Week, April 6
Our reflection today comes to us from Sister MaryAnne Huepper, CSJ, Associate Director of the CSJ Center for Reconciliation and Justice. You are invited to read and reflect on the following readings and questions.
Begin by quieting your body and mind for a few moments of stillness. If possible, light a candle.
I. Gospel Reading for Monday, April 6: John 12:1-11
Six days before Passover Jesus came to Bethany, where Lazarus was, whom Jesus had raised from the dead. They gave a dinner for him there, and Martha served, while Lazarus was one of those reclining at table with him. Mary took a liter of costly perfumed oil made from genuine aromatic nard and anointed the feet of Jesus and dried them with her hair; the house was filled with the fragrance of the oil.
Then Judas the Iscariot, one of his disciples, and the one who would betray him, said, "Why was this oil not sold for three hundred days' wages and given to the poor?" He said this not because he cared about the poor but because he was a thief and held the money bag and used to steal the contributions.
So Jesus said, "Leave her alone. Let her keep this for the day of my burial. You always have the poor with you, but you do not always have me."
The large crowd of the Jews found out that he was there and came, not only because of him, but also to see Lazarus, whom he had raised from the dead. And the chief priests plotted to kill Lazarus too, because many of the Jews were turning away and believing in Jesus because of him.
II. A Sonnet for Reflection
Come close with Mary, Martha, Lazarus
So close the candles stir with their soft breath
And kindle heart and soul to flame within us
Lit by these mysteries of life and death.
For beauty now begins the final movement
In quietness and intimate encounter
The alabaster jar of precious ointment
Is broken open for the world's true lover,
The whole room richly fills to feast the senses
With all the yearning such a fragrance brings,
The heart is mourning but the spirit dances,
Here at the very centre of all things,
Here at the meeting place of love and loss
We all foresee, and see beyond the cross.

- Sounding of the Season by Malcolm Guite
III. Image and questions for reflection
Reflect in silence or by journaling for a few minutes.

Malcolm Guite's poem is asking us to hold multiple meanings of Mary's beautiful celebration of Jesus. Her anointing points to his death and hints at his resurrection. Have you ever had an encounter with a loved one that was truly unexpected – a wonderful conversation, a meal to celebrate a significant event – that bonded you and prepared you unknowingly for a difficult or unexpected experience in that same person's life – one encounter preparing you for another? What was that like for you?
As you journey through this Scripture more deeply into Holy Week, what challenges you and what gives you comfort?
How does this image of Mary and Jesus move your heart?
Mark the end of your time of reflection, either with a moment of silence or by blowing out your candle.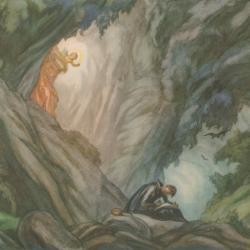 Back to Manresa Moments home
Browse all Manresa Moments content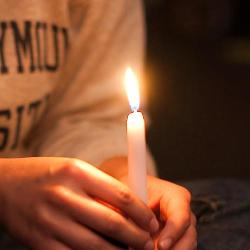 More resources for our moment
Submit prayer requests, find streaming liturgies, connect with faith communities, and more