Manresa Moment: Holy Saturday, April 11
I. Reflection for Holy Saturday
Kat Brown, Director of Mission and Identity Programs
Holy Saturday is an in-between time. After the commemoration of Jesus's death on Good Friday, but before the celebration of resurrection on Easter Sunday, the Church waits, in silence and stillness.
The Gospel of John tells us that after Jesus's death, the disciples withdraw to hide in a locked room, for fear of the world outside (Jn 20:19). All of their expectations for the future have been overturned. They don't know what their lives will look like going forward, and they are filled with anxiety. They go inside, and lock the doors, and wait.
As I observe this very unusual Triduum from behind the locked doors of my home, as I withdraw from the world outside and consider the uncertainty of the future, I find myself experiencing Holy Saturday in a new way. Like the disciples, I feel great anxiety. The world feels more dangerous than it did, and the future far less predictable. I look to the future with hope and expectation of renewed life and reclaimed freedom -- but until then, I can only wait.
But waiting doesn't need to mean stagnation. The idea of keeping vigil also has renewed resonance for me as I await the resurrection from my own upper room. To keep vigil means, literally, to stay awake and keep watch. It is waiting with purpose: paying attention, preparing. Keeping vigil is active, even in silence and stillness. While it may seem on the surface that nothing is happening, a time of vigil is one of interior attentiveness and becoming ready to respond when the moment arrives.
So although waiting is hard, and waiting in uncertainty even harder, my stillness will have purpose. I will keep vigil this Holy Saturday. I will await the resurrection. I will light a candle in the darkness, and watch and pray for the light of Christ.

II. Examen for a Time of Waiting
The practice of the Examen offers us a method to reflect on our experience, notice the presence of God in our daily life, and to live in generous response to it. The guided meditation below offers an Examen adapted for reflection on the "in-between time" and waiting of this Holy Saturday.
Examen for a Time of Waiting
Holy Saturday Reflection from Fr. Robert Caro, SJ
Fr. Robert Caro, SJ reflects on "the great silence and stillness" of this in-between time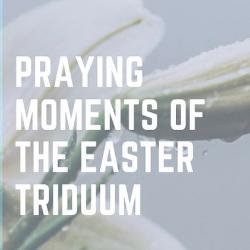 Streaming Prayer
Join live prayer services from LMU and more