MISSION DAY 2015
Jesuit, Catholic Higher Education: Why It Matters in a Pluralistic World
Tuesday, January 27
Keynote address by scholar and acclaimed lecturer CHRISTINE FIRER HINZE, Ph.D., professor of theology and director of The Francis and Ann Curran Center for American Catholic Studies at Fordham University in New York City
Full Schedule of Events
12:15
Keynote Address
Sacred Heart Chapel
1:00
Luncheon
Sculpture Garden
1:35
Discussion Session with Dr. Hinze
Collins Center
3:00
Discussion Session with Dr. Hinze
McIntosh Center
4:30
An Interfaith Celebration of LMU's Mission with Dr. Amir Hussain and musician Yuval Ron
Von der Ahe Suite, W.H Hannon Library
5:00
Concluding Reception
Von der Ahe Suite, W.H. Hannon Library
About the Speaker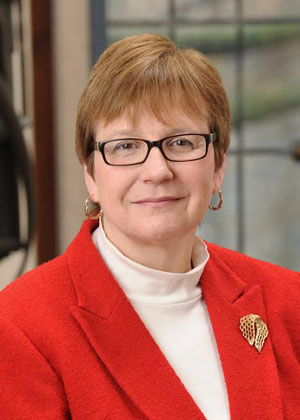 Christine Firer Hinze, Ph.D. [pronounced Hín-zee], is professor of theology and director of The Francis and Ann Curran Center for American Catholic Studies at Fordham University in New York City. Dr. Hinze's Ph.D. is from the University of Chicago and her M.A. and B.A. are from Catholic University of America. Her research interests include social ethics; Catholic social thought; liberationist and feminist ethics; foundational issues in Christian social ethics; power and social transformation; and economic ethics in relation to work, family, and gender.
Dr. Hinze's extensive bibliography includes:
More than a Monologue: Sexual Diversity and the Catholic Church, co-edited with J. Patrick Hornbeck II (New York: Fordham UP, 2013). Based on a series of conferences held in autumn 2011 at Fairfield University, Fordham University, Union Theological Seminary, and Yale Divinity School.
"Women, Families, and the Legacy of Laborem Exercens: An Unfinished Agenda." Journal of Catholic Social Thought 6:1 (2009), 63-92.
"A Distinctively Catholic Patriotism?" in God and Country? Diverse Perspectives on Christianity and Patriotism, Michael G. Long and Tracy Wenger Sadd, eds. (New York: Palgrave Macmillan, 2007), 129-146.
"U.S. Catholic Social Thought, Gender, and Economic Livelihood." Theological Studies 66:3 (2005), 568-91.
"What Is 'Enough'? Catholic Social Teaching, Consumption, and an Ethic of Sufficiency" in Having: Property and Possession in Religious and Social Life, William Schweiker and Charles Mathewes, eds. (Grand Rapids: Eerdmans, 2004), 162-188.
"Whose Marriage? Whose Health? A Christian Feminist Ethical Response," co-authored with Mary Stewart van Leeuwen, in Marriage, Health, and the Professions, Don Browning and John Wall, eds. (Grand Rapids: Eerdmans, 2002), 145-166.