Companions in Mission: Exploring LMU's Ignatian, Catholic Roots
Jamie Hazlitt has been a librarian at LMU for 15 years. Over the course of her time at the university, she's worked in a variety of roles, ranging from outreach to reference. "I've been able to reinvent my career as a librarian here at LMU," says Hazlitt, who currently serves as the Librarian for Collection Development and Evaluation at the William H. Hannon Library.
Librarians are encouraged to pursue professional development and service. Hazlitt, for instance, has served on the faculty senate. However, when she received an invitation in 2015 to participate with Companions in Mission—a yearlong program for mid-level faculty and professional staff that enables them to explore LMU's Ignatian heritage and its broader Catholic identity—she realized that, despite the length of her career at the university, these were aspects of LMU that she hadn't spent much time considering. "I was a little embarrassed that it took me 10 years to explore the university's distinctive mission," she says, adding that she was excited to pursue this unique opportunity.
Sponsored by the Mission and Ministry office, Companions in Mission recruits new cohorts each spring. Over the summer participants read A Jesuit Guide to (Almost) Everything by Jim Martin, S.J. The program formally launched in the fall with a half-day, on-campus retreat and in February included a weekend silent retreat at the Mary and Joseph Retreat Center in Rancho Palos Verdes. There were also luncheon presentations on spirituality, pedagogy and Ignatian history; a service component in the spring that might find participants preparing and serving a meal at the Downtown Women's Center or traveling to Tijuana to work side-by-side with students on one of Campus Ministry's De Colores weekend immersion trips; and finally small-group activities that allow participants to process their experience as Companions in Mission and integrate in their personal and professional lives what they have learned.
For Hazlitt, one of the takeaways has been a concerted effort to integrate personal reflection into her busy life. "I'm not always successful at fitting it into my workday," she says. "But even doing it just weekly has grounded me."
Overall, Hazlitt credits the organizers of the program with providing her and other participants with a sense of belonging—an understanding of how, whether Catholic or not, they fit within the academic and spiritual culture of LMU, a culture that promotes discernment, choosing the greater good, and finding God in all things. In Hazlitt's opinion, it's the integration within the academic life of the university of Ignatian values such as these that sets LMU apart from other institutions. "The Companions program helped me clarify what makes LMU different," she says. "It really highlighted what makes this university a special place for me."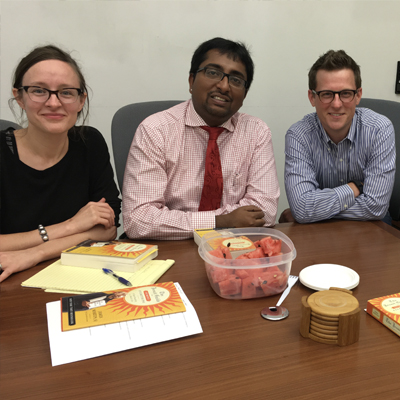 Want to learn more about Companions in Mission?
Get more info about the program and apply