The Chapel and tower, with their distinctive adaptation of Spanish Gothic architecture are sited in exactly the location first envisioned in the 1928 plans for the University. But it was not until 1953 that sufficient funds were raised for its construction. Since then, Sacred Heart Chapel has served as the iconic structure of the LMU campus, thus representing its nature and purpose without words.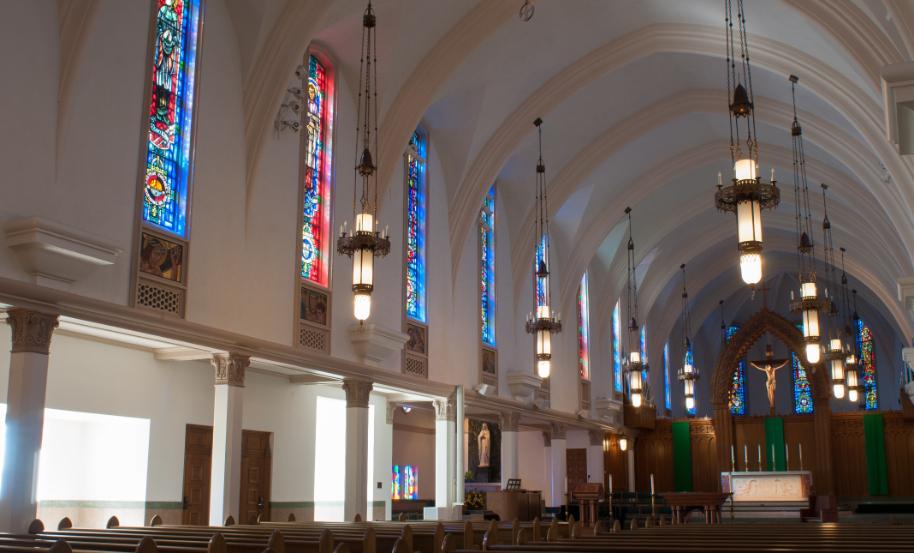 Though the chapel is quite large, those who enter discover a quiet space that encourages peaceful reflection. The brilliant stained glass windows draw the eyes upward to the source of the rich colors and move mind and heart to consider one's own place within the larger context of the human community and beyond.
The Chapel tower was completed the in 1954, with the clock and chimes added a bit later. The Chapel and tower are the architectural focal point of the upper campus; they face across the Sunken Gardens to the broad mall that extends straight out to Loyola Blvd. Each of the stained glass windows, brought from Europe, includes the seal of one of the 27 Jesuit Colleges and Universities in the United States, starting with Georgetown (1789) and ending with Le Moyne (1946).
(Prayer/reflection which appears on the upper part of the two-page spread):
"Peace is my gift to you... do not let your hearts be troubled." (Jn. 14:27) Peace is what I seek, in this time and in this place.