AJCU Leadership Institute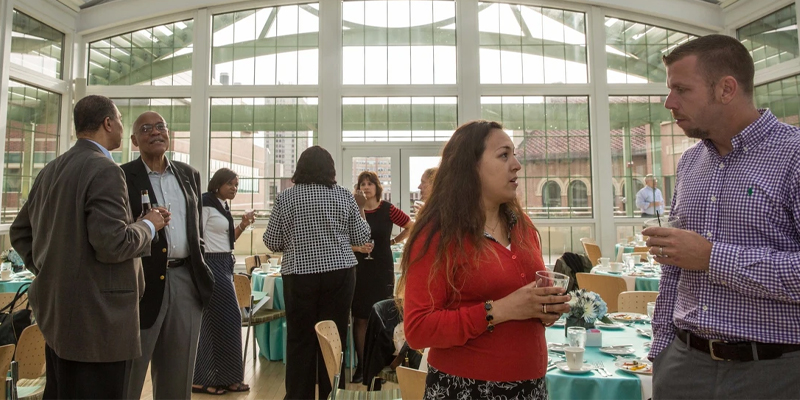 AJCU Leadership Institute
The AJCU Leadership Institute (AJCU-LI) is a professional development program rooted in Ignatian leadership, pedagogy and spirituality. This year-long formation program (formerly known as the Jesuit Leadership Seminar), features intimate virtual conversations with AJCU leaders and an in-person summer institute. Through Summer Institute, participants to build a network of peers in leadership positions across the 28 AJCU schools and develop Ignation leadership skills. The program is aimed at senior administrators and faculty who are either new to Jesuit higher education or have recently assumed new leadership responsibilities. Participants must be nominated by their presidents or mission officers.
PROGRAM COMPONENTS
The AJCU-LI program consists of:
A 4-day in-person Summer Institute

Monthly virtual leadership sessions with Jesuit education leaders

Regular opportunities for online networking, reflection and exchanging best practices

Access to an alumni network of peers in senior leadership roles in AJCU institutions
PERSONAL & INSTITUTIONAL OUTCOMES
Upon completion of the Institute, participants will:
Be conversant with principles of Ignatian leadership, pedagogy and spirituality
Have gained leadership and management skills and approaches steeped in the Ignition tradition
Have a strong sense of personal vocation in Jesuit higher education
Develop a rich network of peers, best practices, and resources across institutions
PROGRAM CURRICULUM
Past Institute sessions have included sessions on:
Ignatian Leadership

Issues and challenges in Jesuit higher education

Jesuit education history, pedagogy and innovation

Personal reflection, development and growth
WHO IS A GOOD CANDIDATE FOR THE JLI?
Key leaders (presidents, provosts, deans, faculty, and senior administrators from all areas of university life) who may be new to their roles and/or Jesuit institutions;
Especially appropriate for administrators with limited leadership/administrative experience and/or those new to Jesuit higher education who

cannot commit to the time demands of ICP
may need a refresher as part of ongoing formation in a Jesuit institution; and/or
are identified by Presidents and Mission & Ministry Offices as having particular potential to contribute to the Jesuit character of the institution
The 2022-2023 cohort is underway. If you are interested in participating in future programs, please reach out to Kat Brown, Director of Mission and Identity Programs, at katherine.brown@lmu.edu.

For more information, you may also contact Kevin Sullivan, JLI Program Coordinator, at Kevin.Sullivan@georgetown.edu.
José Badenes, S.J. (2010)

John Carfora (2010)*

Michael Horan (2012)

Bryant Alexander (2013)

Jennifer Eich (2014)

Tina Choe (2015)

Susan Abraham (2016)*

Herbert Medina (2016)*

Molly Youngkin (2017)

Francesca Piumetti (2017)

*No longer affiliated with LMU